Every Monday my kids report to their class about what they did "Over the Weekend." Here is a Farm Mom's report after a busy weekend...
Friday, March 22, 2013
4:00PM: Get the kids off the bus. Finish packing up a few last items and head into Lowell to setup our first-ever Expo booth!
6:00PM: Head to the St. Mary's for the Fish Fry (Yay! I don't have to cook!)
7:00PM: Hubby drops me and my daughter off at my friend's house. She did a presentation on her mission trip to Kenya.
9:00PM: Answer phone calls, texts, gather a few more items for the booth, get kids to bed
10:00PM: Bedtime
Saturday, March 23, 2013
3:57AM: My alarm goes off (but I don't get up because I like to push Snooze 2 times)
4:11AM: Eat a bowl of cereal and put on 3 layers of clothes- Spring has not sprung here yet. BRRR!
4:20AM: Arrive at the farm. (I have a 1 mile commute.) Mostly, I feed grain/milk/hay and care for new or sick babies. A few highlights from Saturday morning chores:
A few days ago our vet put a cast on this calf because her momma stepped on her right after she was born. He is giving her a painkiller and perscribed me to do it for 3 days. So, I had to tend to her.
I got to see Pepper giving birth to a new litter of kitties!
She had them in the rooster's hideout! He was so freaked out he didn't even crow once all morning!
This guy here was born around 5AM. After his momma licked him clean , I fed him colostrum, gave him his vaccinations, and tucked him into his pen. (That's just the flash from the phone camera. His eyes really aren't scary at all.)
7:51AM: Speed home to take a light-speed shower and grab a few more items for the booth


8:30AM: The Dairy Discovery/SwissLane Farms booth at the Lowell EXPO! We had 500 cartons of TruMoo (donated by DFA- Thank you!), SwissLane Specialty Cheese samples, and Farm Fresh Maple Syrup. It was a great day! We sold out of 2 kinds of cheese and all of our Quarts of syrup and gave away all the milk!
1:10PM: Do a radio interview about Dairy Discovery/SwissLane Farms being a first-time vendor at the EXPO

3:00PM: Tear down EXPO booth
4:30PM: Head to the mall with Mom, Sis and the girls for our annual Easter dress shopping trip!
8:00PM: Home. Throw some left-overs and frozen goods together for a Not-So-Impressivve dinner
8:30PM: Head to the gas station for a Red Box movie. We watched Brave. (Pretty cute movie but I will not be accepting any "peace- offering" baked goods from any of my children.)
10:00PM: Bedtime


Sunday, March 24, 2013
5:37AM: My alarm goes off (but I don't get up because I like to push Snooze 2 times)
5:50AM: Wake up my daughter(the farm kids will work 1 or 2 mornings a month feeding calves). She can't drive so that means I get to help too
6:12AM: Arrive (fashionably late) to feed the bull calves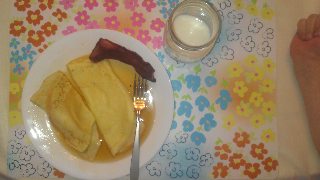 8:30AM: Come home to a Pancake Breakfast! Dad and the boys even made us some bacon to go along with :) Get the kids/me/hubby in our Easter-best for the Sunday School program at church

10:30AM: Church. (Got all teary-eyed as I listened to my kids sing At the Cross and He Arose. PTL!)

12:00PM: Me and daughter leave straight from church with my Mom and Dad to go to my niece's graduation from Michigan State in Lansing (its about an hour drive). I am a proud "Auntie." (I did hesitate to post this pic- I couldn't for the life of me, find an Easter dress for me. Just look at my beautiful niece and daughter OK?)
3:30PM: Grab a snack at Old Chicago to celebrate! Me and daughter leave the party early to go to another party
5:45PM: Arrive at my God-daughter's 9th birthday celebration
8:50PM: Home. Put kids to bed. Crash on the couch.
9:15PM: Blog post on a busy weekend.
11:59PM: Bedtime *Please note this is only an estimate as I am deeply upset at the format of this post!! I will probably try for way too long to fix the margins. I added all the pics through the Blogger App on my phone because I thought it would be easier. I know...TMI. But sometimes a rant can make a lady feel better.